Best Field Trip Ever!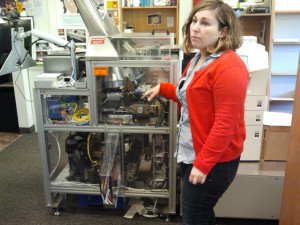 Imagine being able to read your manuscript in book form before it was submitted to a publishing service. Imagine how it would feel to hold that very first copy in your hands, caress the cover, riffle the pages, open it, sign it, hand it to someone else (maybe your mom). Imagine being able to do that in about an hour or less.
That's the beauty of the Espresso Book Machine, the brainchild of a St. Louis inventor who envisioned a printing machine that could both photocopy and bind a book.
Some of our
Digital Publishing Certificate
class found ourselves in the UW-Seattle Bookstore last Thursday evening, firing questions at Anna Micklin, the Self Publishing Coordinator for
University Book Store Press
and Homer's handler. She patiently answered our questions as she efficiently created a book before our eyes. The working parts of Homer are encased in a transparent box so we could literally watch the pages being printed, folded, cut and glued to the cover, and trimmed to the finished size before it was ejected from its chute into our waiting hands.
We were all surprised at the versatility of the machine. It can print books as small as 4.5×5.5 inches and as large as 8.25×10.5 inches. Book interiors are black and white only but if images are properly prepared (converted to grayscale), they print well. It is even possible to get a bleed for the interiors, although the pages are not controlled for creep and the results can be uneven. Surprisingly, books of up to 500 pages or more can be printed. And, because the machines are networked, it is possible to upload a file here in Seattle and print it at any other Espresso Book Machine location. So, if you were on a worldwide book signing tour and needed extra books in Amsterdam, it would be possible to pick them up there on your way to the bookstore!
Book files are submitted as PDFs. Authors can purchase ISBN and Library of Congress numbers through the bookstore. This is done at an advance meeting so that the information can be incorporated into the book. Ms. Micklin and the publishing staff can advise authors about cover design, spine width, font choice, image options, and layout decisions. You can contact Ms. Micklin at publish@ubookstore.com. She is funny, helpful, patient, and competent.
We saw a variety of books that had been printed on the Espresso Book Machine. Some may have used the services of the UW staff; some may not have. But all the books looked and felt like books. They were substantial and of decent quality. If you are considering self-publishing, the Espresso Book Machine is a viable option.